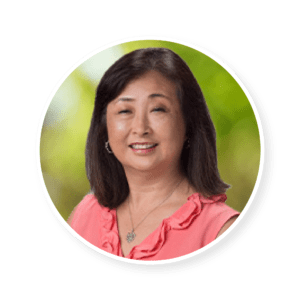 Carina Ohara
Board of Directors, Chair
Carina Ohara is Senior Counsel at Pacific Current LLC, a company that invests in clean energy and sustainable infrastructure projects in Hawaii. Her 28 years in the legal field has been focused in the area of engineering and construction, including supporting projects around the world as Senior Counsel for Bechtel Corporation's oil and gas division. Carina returned home to Honolulu in 2014, joining Hawaiian Electric Company's Legal Department as its construction attorney, and most recently transferred to Pacific Current to engage in opportunities to invest in Hawaii's sustainable future.
Carina is an active member of the American Bar Association's Construction Law Forum, and is admitted to practice law in Hawaii, California (inactive) and Washington (inactive). She is a graduate of Sacred Hearts Academy, University of Hawai'i at Manoa and University of San Francisco School of Law.
During her free time, she enjoys being outdoors either bicycling with her husband or hiking various mountain ridges around Oahu with friends. She is a proud mom of Bartholomew, a Schipperke, and three cats, all who travelled the world with her.