Our comprehensive autism team will support you throughout your entire care journey by always keeping you in the loop, not just for transparency but because you are important to our process and your child's progress. We'll provide regular progress reports and communicate about key milestones – always keeping the lines of communication open and honest so we can help your family thrive.
Select a photo to learn more about who you may meet along the way!
Jennifer Buckendorf MS, BCBA, LBA BCBA Clinical Manager
Over the years, I have had the opportunity to hold positions as an RBT, BCaBA and BCBA. I have worked in home, clinic and school settings and with clients from 18 months to adults. After starting work in the ABA field, I fell in love with the interactions with clients and their families, so decided to move forward in this field.
My favorite part of my job is seeing a client's progress and different personalities while also teaching families autism management strategies to better their everyday life with their struggles related to autism. When I am not working, you can find me playing with my dogs, traveling and exploring all the islands have to offer.
Sarah Novickis PHD, BCBA, LBA BCBA Clinical Manager
I am originally from Green Bay, Wisconsin but have made my way around the country to complete internships and post-doctoral opportunities. My professional journey started as a School Psychologist and Behavior Specialist. Over the next decade, I held positions as a BCBA and a Mental Health Consultant before coming to Easterseals Hawaii.
My favorite part of my job is celebrating my client's progress in their daily lives. When one of my Parent-Led clients echoes "Mama" for the first time, we throw a Zoom party to celebrate! It is moments like these I live for. In my free time, I enjoy hiking, biking and traveling.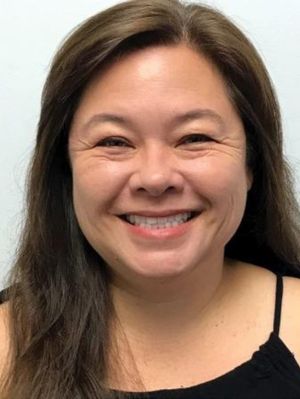 Kathleen McLeod MSW, LCSW, BCBA, LBA BCBA Clinical Manager
I was born and raised in Hawaii. After returning from college, I had the opportunity to work at a youth shelter which led me to get my Master's in Social Work. I started my career as one of the first Intensive In-Home providers. During my time in this position, I was introduced to autism which ultimately led me down the path of getting my BCBA. I have over two decades of experience working with children, adolescents, and families who were a part of CAMHD, DOE, and insurance-funded services. I have served across many settings, including homes, schools, the community, clinics, residential, youth correctional centers and hospitals.
My favorite part of my job is working with our clients and their family and seeing how the skills they have learned over time have helped improve their lives. I also really enjoy working with our staff to help them develop their skills and share learnings from past experiences. During my free time, I enjoy baking with my daughter, working out, logic-based puzzles and watching Netflix with my family.
Anjanette Pablo BA, RBT
I was born in Laoag City, Philippines, and moved to Hawaii at the age of three. I was raised in Kapolei my entire life, and my first language is Ilocano. I have always been passionate about helping others and knew I wanted to have a career that embraced this lifelong passion. My journey has afforded me the opportunity to work with clients in all age groups across various settings, including clinics, homes and schools. I joined the Easterseals Hawaii ohana as a Direct Support Worker implementing individualized care plans for adults and seniors with various disabilities and then moved on to become an RBT.
I absolutely love working with our clients! They have taught me patience and brought me happiness in countless ways – I strive daily to do all I can to help them reach their goals. I am also grateful to have an amazing team of BCBAs and staff by my side. In my free time, I enjoy spending time with my dog, crafting, DIYs, doodling, hiking, reading and online shopping.
Madeline Bucheit MS, BCBA, LBA
Originally from Chicago, Illinois, I taught in New York City and then moved to Hawaii in 2017. Previously, I was a special education teacher at public schools in both New York City and Honolulu. I completed my BCBA Education at University of Hawaii at Mānoa with a focus on special education classroom and severe disabilities in the classroom setting. The classroom setting and seeing the success with ABA in each individual student is what got me started in the field and has kept me excited with ABA ever since. During my free time, I like to practice yoga, hike, go to the beach and bake!
Kristen Solomon M. Ed, BCBA
I was raised in Hawaii, lived in Ohio for 14 years, and am happy to be back home on Oahu. I have been working in the field of autism for over 20 years and have worked in many capacities at various organizations. I have worked directly with children using the principles and procedures of Applied Behavior Analysis for numerous organizations, and worked intensively with the emotionally disturbed population while developing and implementing a School-wide Positive Behavior Intervention and Supports (SWPBIS) program as well as the use of behavior analytic practices to reduce challenging behavior and increase coping skills. I have facilitated intensive ABA programs within a variety of settings including the school, home, community, and mental health agencies. I attained my Master's degree in Special Education with a focus in Applied Behavior Analysis (ABA) from Ball State University and became certified as Board Certified Behavior Analyst (BCBA) in July of 2021. In March of 2022 I became a certified yoga instructor and social emotional learning facilitator for educators and students, and in my free time I love all things outdoors with friends and family! My favorite part of my job is helping those I serve in the community find what makes them happy.